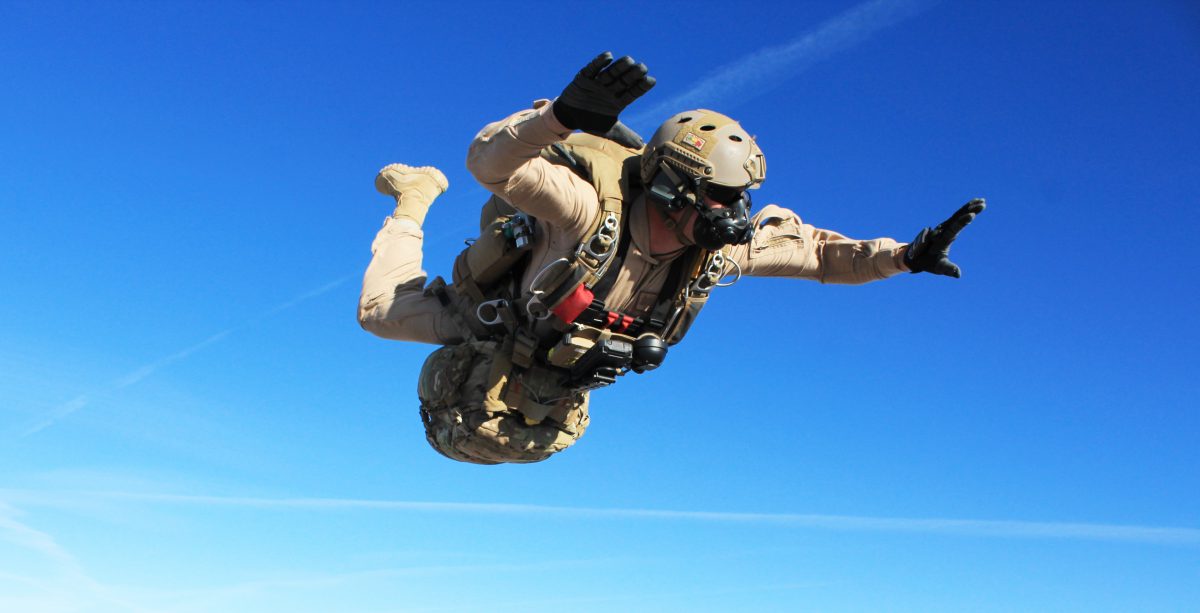 100 Reasons Our Employees Love Working at Airborne Systems
1
Airborne Systems gives me a feeling of providing a capability to our nation. We ensure that our fighting men and women have the best gear possible, allowing them to perform missions without needing to worry about the parachute on their back.
2
Because this company treats its people like family and has a great respect for their talents and abilities.
3
The interesting and important work we do and the amazing opportunities to work with many different companies in the space industry.
4
Airborne Systems has allowed me to combine my life's greatest passion with my profession, and advance both greatly because of that agreement.
5
I get along with my co-workers and I love what I do. Even when faced with challenges, the focus stays on finding innovative solutions.
6
Multi-dimensional products and customers. There is nothing boring about what we make or to whom we sell.
7
The entire group of people who make up the company CARE.
8
They care about the customer and have a genuine concern for customer satisfaction. They care about work ethic.
9
Every person I work with at ASNA puts his or her best foot forward.
10
People at ASNA speak their minds and are always looking for ways to improve the company.
11
People know they can express honest opinions and others listen.
12
They care about each other. This organization is intolerant of politics. It is refreshing to see people care about the success of their peers.
13
I enjoy the people I work with. They are like family!
14
There is always something to laugh about every single day...laughing is good for my soul and my psychological wellbeing.
15
I love the people I work with across the company. I work with some awesome, talented, funny, dedicated staff.
16
On a day-to-day basis, there is a sense that we are working towards a grand, achievable vision and I proudly see us making strides towards it every day and making it a reality.
17
The opportunities for success are endless.
18
The flexibility, the hours, the pay, and getting to see and meet many different people.
19
We are supporting our warfighters.
20
I work for a company with a set of core values, and it has really helped me to build my character.
21
I love that everyone says "Good Morning" to each other every day. It is a simple kindness that makes me smile.
22
Diversity – Of people, of products, and of what I do everyday.
23
Our products save lives.
24
How I do my job makes a difference.
25
They pay me to jump out of planes!
26
We work with colleagues from a variety of cultures and backgrounds.
27
We provide lifesaving equipment to soldiers who put their lives on the line for us.
28
There is no hierarchical burden; we can speak our mind.
29
We are passionate about our products.
30
There is never a dull moment /no routine work/every day is different.
31
We can wear shorts and be on a drop zone one day, and attending a suit and tie meeting the next day.
32
From a parachute system point of view; the Orion (and Apollo) program is our baby.
33
We are the number one provider for the US Armed Forces.
34
The unique products that we design and build parachutes for: personnel, weapon, aerial target, aircraft, space, even ocean tanker.
35
When I was young, my parents and my teachers yelled at me. When I joined the military, the NCO's yelled at me. When I got married, my wife started yelling at me. I've gotten so used to people yelling at me that being here feels like home.
36
I love seeing all the SMILES on people's faces.
37
Opportunity- They share information and encourage ASNA employees to learn various different facets of the business.
38
My opinion matters and so does everybody else's whatever level they are.
39
Moving up with the company is an attainable process as long as you're doing your job and being a superstar!
40
When I leave, I'm always in a better mood than when I came to work.
41
I love what I do at Airborne Systems. That's the reason I've been doing it for almost 10 years.
42
I love getting to meet people from all over the world.
43
I get to travel to new and exciting places and have fun while doing so.
44
Airborne Systems supports my growth with training classes in whatever skill I want to further develop.
45
Knowing that our products are saving lives and constantly bettering the lives of others.
46
Being a part of a company with devoted coworkers makes everyone's job easier.
47
In any situation, we can joke and laugh and then get right back to business.
48
My job has given me the ability to jump out of a plane for the very first time!
49
When people learn you work for Airborne Systems, they know you work for the best parachute company in the world.
50
Being surrounded by great co-workers makes any bad day better!
51
My job gives me the opportunity to have a positive impact on people's lives and make a difference every day. I go home and I know I made a real difference.
52
ASNA has a great Marketing person that keeps the old guard on their toes.
53
We actually have an Apollo era engineer helping us out. (Chuck Lowry)
54
We have the best people in the parachute industry working on the coolest projects.
55
I'm encouraged to try new things out and be innovative... and if it doesn't work out I'm supported to learn lessons, dust myself off and try again.
56
I see people who use our services supported to become the best versions of themselves. It is so rewarding to see this knowing that even if only indirectly, I have had a small part to play in that.
57
We are flying to the moon and beyond.
58
We get to see our products in action. It is very rewarding to see your hard work literally come to life at our test drops.
59
We build the best gear to support Armed Forces all over the world.
60
I get to watch rocket launches at work!
61
Our products, our atmosphere, and of course, our customers are the best!
62
I've built a family with the people I work with. I know I can depend on each and every one of them.
63
Airborne Systems is one of the only companies I have found that actually cares about the well-being of its employees.
64
We are helping to expand the universe.
65
You are recognized and rewarded for hard work at all levels.
66
Airborne Systems gave my personality a chance to flourish.
67
We work with high-profile customers such as NASA, which is really cool.
68
We get to travel the world serving our international clients.
69
I love working with a diverse group of people. The potlucks are awesome.
70
There are always opportunities to learn a variety of new skills.
71
Airborne is a thoughtful company; they often have "goodies" for employees, such as oatmeal, fruit, danishes, etc.
72
The secret to enjoying your work at Airborne Systems is contained in one word – 'EXCELLENCE'. To know how to do something really well is to enjoy it.
73
We work in a collaborative environment, a true example of teamwork.
74
Friendly office pranks always make the day interesting and more fun. 
75
I love working at Airborne Systems because everyone is nice and friendly, no matter their position.
76
We get hands-on experiences.
77
Every day is different, challenging, and exciting. No two days are the same.
78
I get to work with a very wide variety of people and learn something different from each.
79
I use things that I've learned at Airborne Systems in my everyday life and with others.
80
Airborne Systems is not only my career; it is also my learning place.
81
The work is extremely interesting.
82
Projects span a wide variety of applications and required skills.
83
We get the opportunity to work with various personnel with a variety of skills, ages, interests, backgrounds, etc.
84
We proudly serve the military.
85
We get to test our products by jumping out of airplanes!
86
We can have a four-day workweek.
87
We work with truly great people.
88
Airborne Systems gives me opportunities to grow and contribute to making the best products for our customers.
90
Our parachutes fly all over the world.
91
I love working here because you get a sense of teamwork and as a team you can accomplish anything.
92
Parachute riggers are cool.
93
I love seeing all the SMILES on people's faces.
94
We have the freedom of a flexible schedule, which is a plus for parents.
95
We get to use and experience our products firsthand.
96
For the most part, it's like a big family.
97
We get to work on or close to rockets!
98
Airborne Systems is a generous company that understands they are nothing without their employees.
99
It is a place where you can be yourself and enjoy what you do.